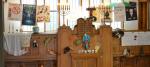 TEMPLE BETH-EL is a liberal synagogue founded in 1924, and is affiliated with The United Synagogue of Conservative Judaism.  We serve a growing and diverse congregation in and around Tompkins County.  Temple Beth-El strives to preserve and enhance our Jewish heritage by providing a wide range of religious, educational, social and community activities that enable people to explore all aspects of Jewish life.  The Temple Youth Program provides a variety of activities and is affiliated with Kadimah and United Synagogue Youth.  We have a rich and active Adult Education program, including weekly classes and a series of periodic lectures and mini-courses.  A women's group, Sisterhood, programs educational and social events for its members and supports the Temple through the Judaica Shop and other fundraising activities.  The Social Action and Arts committees plan and participate in a range of activities and events for the congregation and for the wider community. The Temple has a Caring Committee, a Hevrah Kadisha and a Mikvah for ritual purification purposes.
Any person of the Jewish faith, born or converted to Judaism, eighteen years of age and over, may apply for membership .  Contact the Temple office for further information. 
All are welcome to attend worship services, held on Jewish Holy Days and Festivals, regularly for Shabbat on Friday night and Saturday morning, and on Sunday mornings when religious school is in session.  Once a month, there is an early Family-Friendly Shabbat service and dinner.    Shabbat services geared specifically for different ages of children and teens are held periodically.  Consult the Temple office or the website for information about times and schedules.
The Rabbi Felix Aber Religious School begins with preschool and runs through high school.  It includes monthly pre-kindergarten meetings with parents, Sunday classes for kindergarteners and first-graders, twice-weekly classes for 2nd-7th graders, and Bar/Bat Mitzvah training.  There is a Midrasha class for post Bar/Bat Mitzvah students.  Contact the website or the director at the Temple office for further information.
607-273-5775