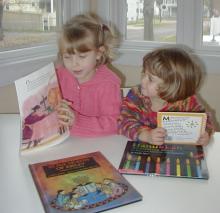 The PJ Library program is an international, Jewish storybook subscription program for children from birth through 9 years old. It is the brainchild of Harold Grinspoon. The Grinspoon Foundation helps to fund the program, bringing the awareness of Jewish traditions and values into the homes of young families. In Ithaca, the IAUJC completes the funding with the generous help of the Rabbi's Discretionary Fund of Temple Beth El and several gracious individuals. All materials are carefully selected by a team of librarians and Jewish educators with the intention that they can be enjoyed by all Jewish families regardless of their level of affiliation or observance. To learn more about the program, and to sign up, go to https://pjlibrary.org/Home.
Local financial support will help expand our community PJ family and fund special activities for young families. Gifts to IAUJC are welcome. To make an online donation click here and scroll to the bottom of the page.
$40 supports a single subscription for a full year.
$320 supports one child for the lifetime of the program (a full eight years).
$720 supports 18 children for a full year.
Please contact info@iaujc.org for more information.