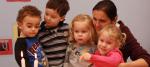 Welcome to B'Yachad Preschool!
B'Yachad is unique in the Ithaca area.   We are the only Ithaca preschool to offer a dual language curriculum of Hebrew and English within our program of play, exploration, relationship-building, and the expressive arts.  In addition to our comprehensive general studies curriculum, based on the New York State preK common core standards, we integrate Jewish holidays, ethics, and Hebrew language and songs.  
​At B'Yachad, each child will enjoy individualized attention and a strong connection with faculty and other students due to the excellent faculty to student ratio.  In our small classrooms, children develop self-confidence in a warm, supportive, and nurturing environment.  They develop security and stability, while engaging in play and educational activities.   Music, dance, and art are vibrant components of the B'Yachad program.
​B'Yachad has its home at Temple Beth-El in downtown Ithaca, and is open to all children ages 2.5 – 5 years.  We offer flexible scheduling to create the best learning experience for your children, who may attend five days a week for a full or half day, with pre-care and aftercare available, as needed.
​Preschool day:                 9 a.m. to 3 p.m.
Preschool half day:          9 a.m. to noon
​To learn more, contact byachadithaca@gmail.com
IAUJC funding helped B'Yachad preschool to launch and grow its program since 2012.  In the past year, IAUJC funds have gone specifically toward providing scholarships to families in need. B'Yachad could not exist without the generosity of Temple Beth El.
B'Yachad Ithaca Jewish Preschool is licensed by The Office of Children and Family Services.
For more information visit IthacaJewishPreschool.com
607-273-5775