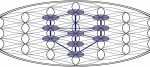 We are a gathering of individuals who meet to study Jewish Kabbalistic teachings and practice, in English. People of all backgrounds, movements, and religions are welcome to this gathering that has met continuously since
1996. We ask that members have interest in, or some familiarity with, Jewish mystical materials and/or meditation, and be willing to share from their personal experience.
Contact: Bill Abeles 607-272-0851
Location: participant's homes in Ithaca NY
Schedule: First Saturday morning of the month.
607-272-0851