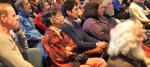 The Ithaca Area United Jewish Community (IAUJC) is an advocate for local Jewish organizations, as well as for the needs of Jews in Israel and other countries around the world. Since our founding just after the birth of the State of Israel in 1948, the IAUJC has raised funds, supported Israel and made grants to local Jewish organizations. In addition, it has sponsored educational and cultural activities.  We are a 501c3 non-profit organization.
Our volunteer governing Board solicits charitable gifts from the greater Ithaca community. Our donors contribute to IAUJC's annual campaign, indicating what portion of their donation should be spent locally and/or globally. The global portion is sent to Jewish Federations of North America (formerly called UJA), which allocates the funds to projects in Israel and to needy Jews abroad. The local portion is awarded through a formal grant application process to local causes related to the Jewish community. 
The four pillars of our organization are:
Supporting a Thriving Local Jewish Community

Engaging the Next Generation

Caring for Jews in Need Globally and Locally

Supporting a Vibrant Israel
"Like" us on Facebook.