B'Yachad Ithaca Jewish Preschool is a warm, community preschool, open to all Jewish children aged 30 months to 4 (turning 5) years.
Unlike any other preschool in the Ithaca area, B'Yachad Preschool offers a strong Jewish element in our education. Children will learn about Jewish holidays and values through stories, games, art and music. B'Yachad offers a warm, play-based learning environment, and also prepares our preschoolers with the necessary skills to enter Kindergarten.  
The Jewish background of our children is diverse and we meet every child on their level without judgment or expectation. Our goal is to instill within each child a love and excitement for his or her Jewish identity. Through Shabbat parties, holiday celebrations, Hebrew songs, parsha knowledge and more, B'Yachad Preschool brings the love and life of Judaism to our children.
At B'Yachad, each child will enjoy individualized attention and a strong connection with the teachers and other students due to the small teacher-child ratio. In our small classrooms, children develop self-confidence due to a warm and supportive environment. They develop security and stability, while engaging in play and educational activities.
We offer flexible scheduling to create the best learning experience for your child 5 days a week for a full or half day.
• Preschool day: 9 AM to 3 PM
• Preschool Half Day: 9AM - 12PM
IAUJC funding helped B'Yachad preschool to launch and grow its program over the last 5 years.  In the past year, IAUJC funds have gone specifically toward providing scholarships to families in need. B'Yachad could not exist without the generosity of Temple Beth El in providing our preschool rooms.
B'Yachad Ithaca Jewish Preschool is licensed by The Office of Children and Family Services.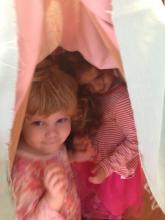 For more information visit IthacaJewishPreschool.com
The IAUJC has provided important financial support during the program's initiation and as it has continued to develop. To make an online donation to our Local Funds in support of B'Yachad, click here.