B'Yachad, our only Jewish pre-school in Ithaca combines a wonderful, caring nursery program with the introduction of Jewish values and activities. The program is housed at Temple Beth El.
B'Yachad is committed to fostering an environment of acceptance and inclusion of all Jewish children in the Ithaca area. We hope to bring meaningful Jewish experiential learning to the children, as well as provide a positive social experience. Their educational approach is to foster learning by play and exploration, while building children's self esteem.
Unlike any other preschool in the Ithaca area, they offer a strong Jewish element in our education.  Children will learn about Jewish holidays and values through stories, games, art and music.  The Jewish background of our children is diverse and they meet every child on their level without judgment or expectation.  Their goal is to instill within each child a love and excitement for his or her Jewish identity.
Music is an integral part of our day at B'Yachad. They sing Hebrew and Jewish-themed songs at circle time. Melodic music often plays softly in the background during free-play time. During Shabbat Party at the end of the week, they sing fun participatory Shabbat songs. The children also regularly enjoy lively movement and free dance time in the large social hall space outside the classroom.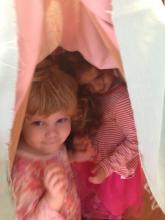 At B'Yachad, each child will enjoy individualized attention and a strong connection with the teachers and other students due to the small teacher-child ratio. They have between a 1:4 and 1:5 ratio of teachers to students.  In their small classroom, children develop self-confidence due to a warm and supportive environment. They develop security and stability, while engaging in play and educational activities.
The IAUJC has provided important financial support during the program's initiation and as it has continued to develop. To make an online donation to our Local Funds in support of B'Yachad, click here and scroll to the bottom of the page.