Lunch and Learn in Dimona, Israel - The Lunch and Learn program provides an extended school day and a nourishing hot lunch for nearly 500 at-risk elementary school students in 13 schools in Dimona.
One in three children in Israel lives below the poverty line, and many of those at-risk children live in periphery cities like Dimona that have large immigrant populations, many single-parent families, and high rates of unemployment. Students receive extra academic help and a hot meal each school day, along with subsidized schoolbooks and the opportunity to participate in class trips.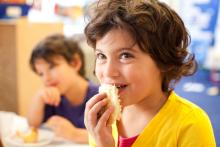 Lunch and Learn participants show significant improvement in educational achievement, behavior and self-confidence, and continue to excel as they transition to middle school.
A designated gift of $758 to IAUJC can support one student for one year. Click here or on the Donate button at the bottom of this page to donate online.