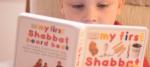 The IAUJC has brought a wonderful free subscription program to the Ithaca area. The PJ Library is the brainchild of Harold Grinspoon and his foundation - bringing wonderful Jewish storybooks and music into the homes of young families. Children from birth to 9 years of age are eligible for a free book or music CD every month. The items are carefully selected to be appropriate for your child's age range. In addition, the items do not assume any specific level of religious observance. The books focus on Jewish holidays, customs and values. To sign up, go to the PJ website.
Our local PJ Library community gets together at least 3 times a year to celebrate and network. It is a great way to get to know other young families in the area. IAUJC funds all programming and subscriptions, along with Temple Beth El's Rabbi Discretionary Fund and several generous individuals.
Ithaca now has an additional program, thanks to the generosity of the Harold Grinspoon Foundation. This one is called PJ Our Way, and is for slightly older children, ages 9 through 11.  Subscribers get to choose the books they want to read and enjoy a website designed just for them. Sign up at PJ Our Way.
607-257-9924