Yotam Polizer is a regional director of the humanitarian relief agency IsraAID, and discussed the efforts of Jewish, Christian and Muslim Israelis in saving the lives of Syrian refugees in Greece at Ithaca College and Temple Beth-El on November 15, 2015. At his talk, Polizer shared case studies of IsraAID's humanitarian work with the Syrian refugees and with people affected by other recent disasters.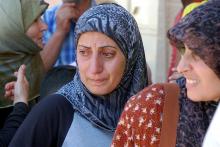 Born and raised in a small village in Northern Israel, Yotam has been a social activist from a young age, and today boasts more than 10 years of experience in humanitarian projects around the world.
Yotam began his social activism working with juvenile delinquents in a rehabilitation center. His achievements include launching a ground-breaking program to pair Israeli army volunteers with special-needs children, as well as a youth leadership and community development project in Bedouin villages of Israel's Negev desert.In 2007, Yotam joined the Tevel B'Tzedek's development project in Nepal, where he spent three and a half years as a Project Coordinator. During this time, he was also employed by the Israeli Embassy as Consular Assistant. As the Asia Regonal Director, Yotam oversees all IsraAID's programs in Japan, South Korea, Hong Kong, and the Philippines.
IsraAID, Israel's largest humanitarian nongovernmental organization, includes Jews, Christians and Muslims and has been on the front lines of nearly every major humanitarian response in the 21st century, including the Ebola outbreak in West Africa, the 2013 typhoon in the Philippines, and the 2011 earthquake and tsunami in Japan, according to a news release.