The AMIT Elaine Silver Technological High School in Be'er Sheva has a student population of about 135 students, grades 9 to 12, including Ethiopian immigrants and both boys and girls. This school is for students who have not met academic requirements or who have been expelled from their regular, academic schools. The school gives them a chance to accumulate technology credits, each student according to his/her ability. Courses of study include electricity and electronics, PC technician, computer graphics, child care, landscape architecture and carpentry. IAUJC awarded $15,000 to AMIT from its Humanitarian Aid to Israel Fund. The grant helps to maintain a new training program for garden landscaping. Learn more about AMIT here.
Another $15,000 was awarded to a Jewish Agency flagship program that provides community-based mentoring for at-risk children in Israel. Youth Futures in Dimona, provides trained mentors
who work as trusted guides helping students improve school performance, strengthen social integration, and inspire engagement with the community. The mentors also connect youth, families, and communities with services and local resources to help them overcome barriers to success. In 2016-17, Youth Futures Dimona worked with 128 children ages 6 to 14 in four elementary schools and one junior high school, paired with eight Mentors. Video from Youth Futures here.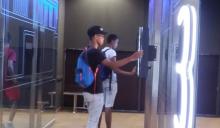 The third 2017 grant of $15,000 was awarded to the Ethiopian National Project, School Performance and Community Empowerment (S.P.A.C.E.) program, which provides Ethiopian-Israeli youth in grades 7-12 with intensive after-school scholastic assistance. The ENP aims to ensure the full and successful integration of Ethiopian Jews into Israeli society. The program promotes academic growth and improvement by providing tutoring in small groups. Alongside its academic components, the program works to strengthen students' self-esteem and leadership skills by addressing obstacles to social integration and personal development. The IAUJC is helping the program in Beersheva, Israel. To find out more go to www.enp.org.il.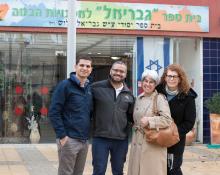 The Lunch and Learn Centers in Dimona provide a supportive educational environment that enhances the formal school activities for 450 elementary school children in 12 different schools throughout Dimona. Children who participate in the program include those from secular, religious, and ultra-religious (Haredi) families as well as the Black Hebrew community, African Americans who believe that they are descended from the 10 lost tribes of Israel.  Activities at the Center are both educational and social, combining enrichment activities, values education, and social skills development, as well as nutritional supplementation. This year's grant from the Humanitarian Aid to Israel fund is $9866 with additional funding to come from Ithaca donors who have designated Lunch and Learn in their annual gift.The Mayor of Dimona, Beny Bitton was in Ithaca in November 2016 to thank our community for its sustained support over the years.